Why is FENFAST 375 one of the top rated weight loss pills, year after year? While weight management requires healthy eating and lots of exercise, everyone needs something to curb their cravings with a boost of energy. FENFAST 375 helps you suppress your appetite, while burning calories. It also has a positive impact on your mood.
People love this weight management supplement as it provides everything needed to support healthy living and a healthy diet. Unlike other weight loss products, it is an all-in-one formula, which makes dieting easier. It is a high quality appetite suppressant and a clinically proven fat burner.
FENFAST 375 can be purchased over the counter, it is a great alternative to prescription weight loss products. Whatever difficulties you may be facing in reaching your weight loss goals, FENFAST 375 will help you get there.
Produced in the US, this diet pill has proven ingredients that are pharmacological grade. It is supported by a clinical study which has positively proven its unique combination of ingredients highly complement weight loss programs. FENFAST 375 has fostered satisfied customers who have effectively lost weight by using it. It can be used by anyone of any age, regardless of their different eating and exercising styles. Its ingredients, such as Beta Phenylethylamine HCI, 1, 3, 7 Trimethylxanthine, Hordenine HCl and L-Theanine, have helped people lose excess weight in less time.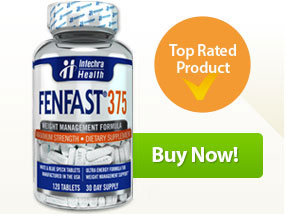 So, how does it work? Many factors play a role in effective fat burning. It is important to understand you are what you eat. Controlling appetite is the key to stopping yourself from putting on weight. By making you feel full, FENFAST helps you control your cravings. Many users claim they actually have to remember to eat their meals throughout the day because they don't feel hungry. With a controlled and healthy diet, FENFAST can help you shed pounds by reducing the amount of calories you consume.
Metabolism is another factor that helps you manage your weight. Your metabolism helps your body break down food for energy. When metabolism is high, it means your body is breaking down more food for energy. Low metabolic rates can be a huge struggle when it comes to weight loss, because no matter how hard you try, that extra fat just doesn't shed. FENFAST 375 helps you boost your metabolism so you start seeing results immediately. The thermogenesis it induces in the body leads to a greater fat burn than before.
After months of training and exercise, you may lack energy. FENFAST 375 helps you get rid of that lethargic feeling you get after an intense workout. It motivates you to go the extra mile with improved energy and concentration. This diet supplement boosts your energy levels so you can stay motivated to work out and lose weight.
So, as you can see, there are many reasons why FENFAST 375 has long been considered one of the top rated weight loss pills on the market.