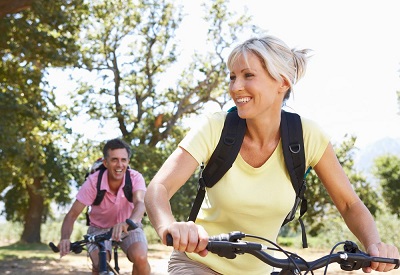 It's that time of year again — bathing suit season is nearly upon us! Though you probably haven't been thinking of it all winter long, it's time to start transforming that body to get ready for summer. As spring is upon us there is no better time to work out, eat right, and change your body.
Why Make Spring Fitness Goals?
It will take hard work and dedication, but you can get there if you're really willing to see it through. If you are trying to set your spring fitness goals, then you want to think of what you are trying to accomplish and how you can get there. This is a very individual thing, but if you are ready to take on the challenge you can make it work.
It doesn't matter if you've been working out all year long or if you are just trying to get into a new routine; setting goals will help you be successful. If you just tell yourself that you'll work out more, that's not enough. You may stick to the plan, but you won't get as much out of it unless you write it down and put some specifics into it. You will find that you are much more dedicated and ready to take on anything if you have goals to pave the way. This is a journey, and your fitness regimen will help you to burn fat, build muscle, and transform your body one day at a time.
Tips for Your Spring Fitness Goals This Year
If you are ready to take things to the next level and tired of spinning your wheels, then you want to really put thought into your spring fitness goals. They can help you to create the right regimen for you and ensure that no matter what comes up, you are ready for it and you stick with the program. Here's how to make these goals work for you.
Write them down and make them specific
It's not enough to just have goals in your head, since they can easily be skipped over. Taking the time to write down your goals helps you to form a true commitment to them. Not only that but then you can add specific and measurable factors that help you get results. Writing down specific goals creates a path to success and ensures that you can't skip out of your workouts quite as easily.
Reward yourself for the progress that you make so you stay motivated
As you work through a week of great workouts and stick with your goals, reward yourself for that progress. The key is to keep track of your goals, measure your progress, and then celebrate the small victories. If you meet a short-term goal such as losing a certain amount of weight or even getting in a certain number of workouts, then you want to reward yourself to keep the motivation alive and strong.
Don't forget that spring cleaning counts.  Use a calories burned cleaning the house calculator to see how much you burn as you clean up the garden, rake the lawn, wash the windows and wash the last remaining flecks of winter away.
Get outside and switch up your workout for a fun and creative twist
Spring is the perfect time to get outside and workout, so add that to your goals. This will make for a nice creative twist and ensure that you stick to the plan more readily. Try going for a run or a power walk outside even one day a week. Try to do an outdoor bootcamp class or even go for a swim. Whatever will help get you into the swing of things is what it's all about.
Keep a visible reminder, such as a bathing suit, nearby that you can look to for inspiration
As you think through and set your spring fitness goals you also want to put up some sort of visible reminder to stay motivated. This can be a quote, a picture of how you want to look, or even something tangible like a bathing suit or outfit that you want to fit into. When you do this, it helps keep you going and lifts you up when you need that little push to get out there and work it!