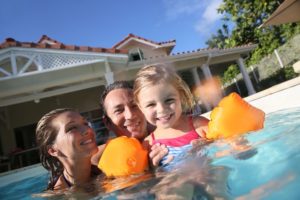 As beautiful as summertime is, it's easy to understand why it can also present some challenges to being able to keep your family active. Summer is a great time to move around, but because of the heat, a lot of people end up seeking the comfort and coolness of spending more time inside with the air conditioner blowing.
Embrace the Season and Keep Your Family Active All Summer Long
If you want to keep your family active throughout the summer months so that everyone can take advantage of the time off in a productive way, keep reading for a few tips that could help keep everyone motivated to stay fit.
Still, don't forget to take the right safety precautions to beat the heat. Make sure everyone stays hydrated, take breaks to cool down, and know the signs of becoming overheated so that the right precautions can be taken. Even on the hottest days, it's still possible to keep your family active if you work appropriately and strategically. It can definitely be fun!
Tips to Keep Your Family Active Throughout the Summer
Here are a few great options to make sure you keep your family active in the summer and enjoy yourselves too.
Head to the Park
Heading to your local park is a fantastic way to get outside when the sun is shining. You can go for a walk with your family, play some basketball, go biking or skating, and even spend time on the playground together. Limiting the amount of time that your kids are allowed to watch TV, play on their phones, and play video games will ensure you have enough time in your schedule to keep your family active outside.
Go Swimming
On hot summer days, nothing beats going for a swim. If you don't have a pool of your own, head to a public pool that you can enjoy with your family, or head to the lake or to the beach instead. Swimming is a full-body workout that will get every muscle toned and strong, and it also doubles as a great cardiovascular exercise.
Visit a Museum
Sometimes the summer heat makes it impossible to be outside, but that does not mean that you can't keep your family active. Visiting a museum is a fun way for your kids to learn new things while they are on break from school, and because museums are so large and there is so much to see, you can get a good amount of exercise by simply walking from one exhibit to the next. Wear a fitness tracker when you head out and you'll be amazed at how many steps you rack up.
Exercise as a Family
Finally, exercising as a family is a great way to stay active during the summer, when your kids may be on break from other physical activities, like their sports teams or their dance squads. Schedule in time every day, or at least a few days a week, during which you can all get together and participate in a workout class or even just head outside for a jog.
Get Silly to Keep Your Family Active!
Getting silly is a lot of fun and a great way to keep your family active throughout the summer too.  Water balloons, frisbee, or even a game of tag can be a goofy way to have a blast while you're all outside. Make up silly rules to give classic games a laughter-filled refresh.
Helping your family stay active throughout the summer is an important way to be certain that everyone will be able to maintain a healthy weight and lean body. And if you're struggling with shedding those excess pounds this summer, you can also consider taking a weight management product like FENFAST 375 to help you get the beach body you want.