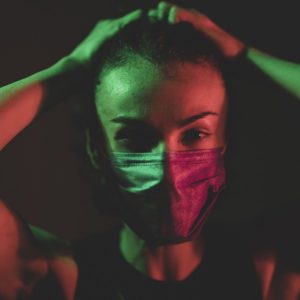 Finding the best face masks for working out can make a world of difference when you live in an area where gyms require everyone to wear one the whole time. After all, having to exert yourself physically during an intense exercise session can be pretty uncomfortable.  Still, if you do live in an area where you must cover your face when you go to the gym, then it is the only way you're going to be able to use your membership, so it's best to have the right kind with you.
Is It a Good Idea to Wear Face Masks for Working Out?
This is quite the controversial topic.  The reason is that most national and international medical advice suggests that it is not a good idea to wear face masks for working out.  The WHO, for instance, recommends against wearing them while exercising.  Its official website states that: "People should NOT wear masks when exercising, as masks may reduce the ability to breathe comfortably.
"Sweat can make the mask become wet more quickly which makes it difficult to breathe and promotes the growth of microorganisms. The important preventive measure during exercise is to maintain physical distance of at least one meter from others."
These are important issues to take into account, even when you do have to wear face masks for working out in order to comply with local regulations to enter your gym.
The Main Concerns During Exercise
When choosing the best face masks for working out, there are clearly many factors to consider.  These include proper fit, breathability, remaining in place without having to be adjusted (because once your mask is on, it's best not to touch it at all), keeping it dry, and keeping cool.
The CDC also reminds gym goers that wearing a mask is not a substitute for social distancing. Keeping 6 feet apart, at the very least, is important to reducing COVID-19 transmission.  Wearing the mask is meant as an additional layer of protection.
Characteristics of the Best Face Masks for Working Out
As is the case with choosing a mask for everyday use, there is no single model that works best for everyone.  We all have different face shapes and preferences, so there won't be one single option that will be superior to all the rest for all wearers.  Instead, make sure to look for the following types of feature as you choose yours:
Make sure your face masks for working out fully cover your nose and mouth and tuck under your chin.
Ensure the mask has a snug fit and doesn't gape open at the sides, top or bottom. To improve the fit and filtration of your mask, follow the CDC's guidelines.
According to the CDC, any inclination to choose a mask with vents to make it easier to breathe will only increase the risk of exposure. Therefore, "Do NOT wear cloth masks with exhalation valves or vents since they allow respiratory droplets containing the virus to escape," says the official website.
If you wear glasses, choose a model that allows your glasses to sit properly on your nose while it still covers your nose.
Cloth masks typically fare better than medical masks for working out purposes. A three-layer masks is ideal, though two layers may be sufficient if they are the right fabric. Hold the mask taught in front of an extremely bright light. If light can be seen through the fabric (if it doesn't work like a black-out curtain), its protection is not ideal.
Choose a model with a nose wire to ensure a close fit around your nose.
Using mask fitters, braces, or knotting and tucking techniques to ensure better fit can make a significant difference to the performance of the option you choose.
Additional Tips to Improve Effectiveness
To boost the effectiveness of whatever masks you choose for working out, use the following additional tips at the gym.
Use hand sanitizer between machines. If the option is available to wipe down a machine between users with disposable disinfecting cloths, do so.
Bring extra masks. When yours gets damp from your sweat and breathing, it is no longer performing to your benefit. It's time to switch to a dry one…with clean hands.
Chat outside. If you love to talk to other gym goers before or after your workout, do it outside. The less time you spend inside, the better.