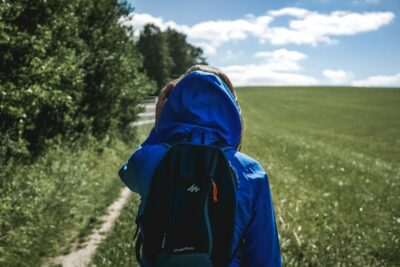 Have you ever found that taking a walk outside seems to lift away that mental fog that rolls in after you've been indoors for a while? It's not just you. Quality scientific research has tracked and measured this health benefit and many others from walking outdoors.
Taking a Walk Outside Benefits Physical Health and Mental Wellness
US Environmental Protection Agency data from December 2022 shows that the average American is indoors for about 90 percent of their life. That said, medical research also shows that even a little bit of time spent outdoors comes with a long list of physical and mental health advantages.
Going for a brisk walk outside for a few minutes a day can work wonders on your mood, cardiovascular and muscular health. At the same time, it helps to prevent or improve a slew of mental and physical health conditions ranging from high blood pressure to osteoporosis to depression or anxiety disorders, among others.
What Do Studies Say?
A study published in a 2019 issue of Scientific reports determined that by spending at least 120 minutes per week in nature (an average of just 17 minutes per day!), there are significant, measurable health benefits.
The Centers for Disease Control and Prevention (CDC) recommends spending only slightly more time than that doing moderate exercise every week. Its recommendations are for at least 150 minutes per week (still just an average of 21 minutes per day) doing something active at a moderate intensity level.
What does this mean? A brisk walk of around 20 minutes to a half hour per day – or a couple of shorter walks if it's easier to break them up – can provide you with physiological and psychological benefits from both activity and from being outdoors. If you can head to an area with trees or, even better, to a park or trail that surrounds you with nature, even better!
5 Health Benefits Associated with a Daily Walk Outside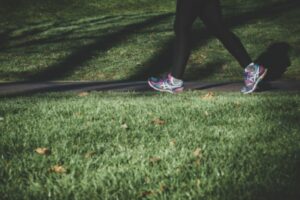 The list of health benefits linked with going on a regular walk outside is a long one. The following represents just some of these advantages you could experience from making this wellness habit.
Heart health – Both spending time in nature and regular activity have been linked with reduced blood pressure and increased heart rate variability (the speed at which your heartbeat adjusts to your level of activity, stress, relaxation or rest). These are both key measures of overall heart health that get a double whammy of benefits from walking and being outdoors.
Lung health – Breathing fresh air and being active both automatically increase your lung function and – in many cases – the quality of what you're inhaling. Fresher air and activity encourage your airways to open up, improving the ability of your lungs to exchange oxygen for carbon dioxide. This also helps to reduce inflammation, which is beneficial to quite literally thousands of functions and conditions throughout your body.
Mental health – Being outside and being active are both core recommendations for managing stress and in the prevention and treatment of mental health conditions such as depression and anxiety. While it isn't entirely understood specifically why being outside – particularly in natural surroundings – has a profoundly soothing effect, this impact is easily measurable and is felt very quickly. It could have to do with reducing the overstimulation from everyday life and encouraging better breathing and air quality, but there are dozens of additional theories as to why the impact is so rapid and beneficial.
Sleep quality – Being active during the daytime is highly beneficial to getting a good sleep at night, but going outdoors can provide you with even greater benefits. Going for a walk outside not only gets you to move your body, but it gives you direct exposure to daylight, even if it's cloudy out. This is vital to the regulation of your body's natural circadian rhythm, that is your natural cycle for sleeping and waking.  By walking outside on a regular basis, you'll help to boost the quality of your sleep, which comes with a full spectrum of additional health advantages.
Lower risk of chronic illness – When taking all the wellness benefits of walking outside into account, the result is that it lowers the risk of chronic disease. After all, with regular activity, less inflammation, improved respiration and circulation, reduced stress and better sleep, both physical and mental health can see spectacular advantages.
Getting Started
Getting started with walking outdoors doesn't have to be complicated or time consuming. Even beginning with 15 minutes a day can make a big difference. All you need is clothing appropriate for the weather and a good pair of walking shoes, and you're on your way.