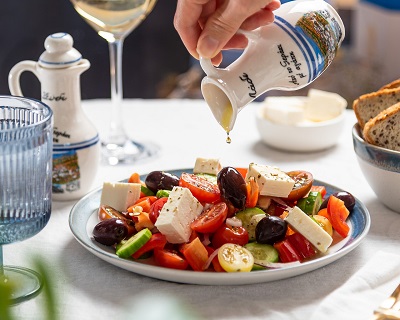 Salads without lettuce are a great way to help make sure you stay interested in these fantastic summer dishes. Whether you love your greens or can't stand them, a bit of time apart never hurts!
Salads Without Lettuce Can Surprise You
Greens are great for you. They are packed with nutrients and fiber and can help to fill you up. They make a great base for many dishes, from mains to sides. That said, this doesn't mean you always want them, even if you love them.  But dropping the greens doesn't mean you're out of options. Salads without lettuce can be absolutely delicious, nutritious, and surprisingly filling.
10 Ideas for Salads Without Lettuce to Enjoy this Summer
If you're looking for some alternatives to having leafy greens every day – especially if you're already getting your greens elsewhere, such as in asparagus or broccoli – check out these ideas for salads without lettuce. When you find your favorite, don't forget to snap a picture and tag us on social media such as Facebook or Instagram!
1 – Cucumber and Watermelon
What could taste better on the hottest summer days than refreshing cucumber and watermelon. Add some chopped fresh mint leaves and you'll feel like you're having a particularly special treat when you're enjoying a nutritious meal!
2 – Chickpea, Cucumber and Avocado
Choose chickpeas you've roasted and coated in your favorite spice mix, or simply rinse them and add them straight out of a can. Combine with cucumber, avocado, red onion and your favorite fresh herb, such as basil. Add some sliced cherry or grape tomatoes for color!
3 –Peanut and Quinoa Coleslaw
Forget everything you know about coleslaw and add some quinoa and roasted peanuts to your shredded carrots and cabbage. Toss in some fresh sugar peas to really bring home this salad without lettuce.
4 – Greek Salads Without Lettuce
Though many restaurants serve Greek salad on a bed of greens, you'll likely discover that you'll enjoy it a great deal more in the forms of salads without lettuce. Chop up some tomatoes, cucumber, green onions and fresh basil and toss together with cubed or crumbled feta and toasted pine nuts. Add a balsamic vinaigrette and some onions, and you've got a definite winner.
5 – Cantaloupe and Mozzarella
Among salads without lettuce, this one stands out as being extremely easy while looking quite fancy. Though you can simply cut up your melon into bite-sized pieces, whip out the melon baller when you truly want to impress. Add a homemade balsamic vinaigrette (just whisk together some olive oil and balsamic vinegar at a 3:1 ratio) and some chopped fresh mint and basil leaves. Drizzle a tiny bit of honey overtop before serving. To turn it into a caprese spinoff, you can add pieces of prosciutto.
Use Your Imagination for Salads Without Lettuce
Though these ideas can get you started, there's no reason that you can't start coming up with your own great ideas for salads without lettuce, too. Start paying attention to the ingredients you enjoy the most and the herbs, dressings and other ingredients they pair well with. Soon, you'll have your own signature dish everyone will want you to bring when you head to backyard barbecues and other summer celebrations.