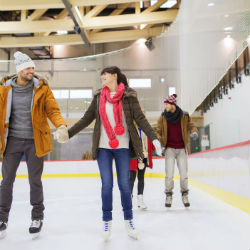 'Tis the season for parties, cocktails, desserts and huge heavy meals. If you want to stay on top of your weight loss or even just maintain your current weight, you're going to need to have a Christmas fitness plan.
Christmas Fitness Activities Can be Straightforward
Don't let things spiral out of control this year. Have a strategy for your Christmas fitness and keep on top of it. This doesn't mean anything intense or complex.  In fact, the simpler you make it, the more likely you are to stick to it, so give yourself a break both in planning and in execution and don't overcomplicate things.
Fortunately, we've come up with some great tips for you to use to keep your Christmas fitness on track, so it won't overwhelm you. Instead, you'll be able to enjoy all the mental and physical health benefits that comes with it.
12 Tips to Enjoy Christmas Fitness Benefits This Season
Use these 12 tips of Christmas fitness to make sure that by the time Santa slides down the chimney, he's the only one with the belly like a bowl full of jelly.
1. Make treats a treat
Just because desserts and sweets are in front of you, it doesn't mean that you need to eat them. It's perfectly fine if you want to indulge this year. However, it's not going to work in your favor if you indulge all the time. Choose the treats you want and savor them. The rest of the time, keep up your fitness routine and eat accordingly.
2. Have a plan B for workouts
This is a busy time of year. If you can't get to the gym or complete your normal workout, have a backup strategy lined up. You may not be able to use the treadmill, but you can go for a brisk walk or do a small-space fitness routine in your hotel room.
3. Add additional activity to your day
To make up for more calories and less normal exercise, squeak in a round of jumping jacks, a run up the stairs or challenge your kids to a tickle war.
4. Jump rope
Set a goal of 500 jumps, 5 days per week. You'll do wonder for your heart rate…and for your arms for that matter. It's a high intensity workout that blasts through a huge number of calories.
5. Go outside
You may want to sink into the couch whenever you get a moment but make a promise to yourself to go outside for at least a few minutes of exercise each day. You'll get vitamin D and fresh air – perfect for keeping away the winter blues.
6. Take time off
There are some evenings when you should just let yourself take the time off. Resting your body and mind can be as important as a gym session.
7. Strength train
Don't forget that cardio isn't the only kind of workout. Do a session of push-ups, curl-ups, squats and burpees. Do 10 of each, then repeat at least six times.
8. Don't wait for the New Year
New Year's resolutions will typically fail. Instead, start right now and promise yourself that this is the start to a healthier life.
9. Get friends involved
One of the best ways to motivate yourself is to buddy up with other people who want to be active. Join efforts with friends throughout each week.
10. Do a bit more
If you've slipped a few times in terms of what you've eaten, make up for it by adding a bit more to your workouts. Don't overdo it, but make sure you're keeping a balance with your treats.  Just remember that no workout will burn off a plate of Christmas cookies. Your Christmas fitness routine isn't going to burn off all the extra calories you eat this season. It'll give you a slight advantage while keeping up your energy levels and building the right habits for the new year though!
11. Make a commitment to yourself
Promise to take time for yourself and keep that promise. Remind yourself of this promise on a regular basis. You're likely to forget it.
12. Shovel a driveway
Clear an elderly neighbor's driveway. You'll get exercise and warm your heart.