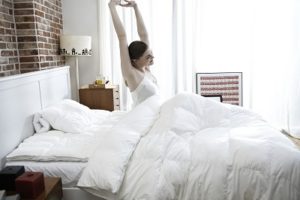 Being able to reduce sleep apnea, if you have it, is an important step to ensuring that you're doing what you can for your overall health and quality of life.  It is important to ensure you're breathing consistently through the night to decrease your risk of a number of mental and physical health conditions. According to the results of a recent study, there are some things you can do to ease the symptoms in a meaningful way.
Research on How to Reduce Sleep Apnea
The recent research into how to reduce sleep apnea was published online April 22 in JAMA Network Open.
It showed that weight loss and certain healthy lifestyle changes can help to reduce sleep apnea to an important degree.  A research team from the University of Grenada in Spain, led by Almudena Carneiro-Barrera, Ph.D. conducted the study on 89 men – men are more commonly affected by the condition – aged 18 to 69 years.
Each of the participants had been diagnosed with moderate-to-severe obstructive sleep apnea (OSA) and had a body mass index greater than 25, which is at least overweight. They had all been using continuous positive airway pressure (CPAP) therapy. The were also using an eight-week interdisciplinary weight loss and lifestyle intervention and usual care or were assigned usual care alone without the weight loss and lifestyle intervention.
What the Researchers Found
The researchers found that the group that had the additional weight loss and lifestyle intervention were also able to reduce sleep apnea as measured by the apnea-hypopnea index when compared to the control group that received the usual care on its own.
At six months, those with the intervention had experience an improvement of 57 percent when compared to those who did not.  By the end of the intervention, 18 of the 40 participants who received the intervention no longer required CPAP therapy.  Of those 18, six were considered to be in remission.  At the six-month point, 21 of the remaining 34 (as six were in remission) no longer required CPAP therapy and 10 were in complete remission.
The Impact of Losing Weight on Reducing Sleep Apnea
If you suffer from sleep apnea, it may be possible to reduce it with a combination of therapies and lifestyle changes that include weight loss. Talk to your doctor about the right ways for you to reduce your body mass index if you are overweight or have obesity.  Be sure to discuss the best diet pills you can take to support your weight loss strategy and that will be safe and appropriate for your body's unique needs.