A common concern for those interested in taking diet pills is how will taking FENFAST 375 make them feel. It's understandable that, when you turn to a diet pill, you want to be able to envision yourself using it. You want to understand any side effects.  You'll also want to ensure that you choose the diet pill that is right for you.
How Will Taking FENFAST 375 Make You Feel During Weight Loss or Weight Management?
The good news is that FENFAST 375 happens to be a diet pill that offers premium benefits while avoiding many of the most common side-effects associated with diet pills.  In fact, while you're curious about how will taking FENFAST 375 make you feel you can take comfort that severe side effects associated with prescription drugs aren't associated with this pill
Nonetheless, when you decide to take this weight management pill, it can be helpful to know how will taking FENFAST 375 make you feel. Finding out is all part of doing your homework by researching in advance.
Noticeable Benefits
How will taking FENFAST 375 make you feel?  The majority of customer reviews point out that they feel more energized. They experience a noticeable and very usable burst of energy.  At the same time, they say that it's a gentle and very natural feeling energy, instead of a jittery form.
This is a big part of the appeal with this diet pill, which gives you benefits without making you worry about strong side effects.  In fact, you may experience several benefits that you'll notice at various times throughout its use. These include:
More energy
Improved focus and alertness
Support for your healthy metabolism
Thermogenic ingredients
Top fat burning workout performance
Enjoy Becoming Your Best
When taking FENFAST 375, you may feel that you're simply more at home in your body.  After all, when you have the energy and focus you need to stay on track and do your best, it makes a difference.  You can keep up with the changes you've made to your dieting strategy.  You can push yourself just that much harder and longer during each workout.
Feel confident in knowing that your body is running efficiently with support to your metabolism.  Know you're getting the most out of each fat burning workout with thermogenic ingredients on your side.
As you can see, while you're taking FENFAST 375, you'll feel as though you've armed yourself against your dieting struggles. You'll be fully equipped to take on your healthy strategy at your very best.
It's Not Just About Weight Management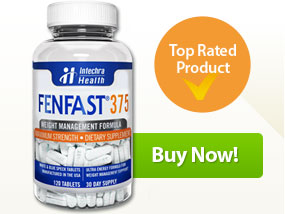 As important as it is to know a diet pill's claims and benefits, your experience goes beyond that point. It's only responsible to look into how will FENFAST 375 make you feel. This will help you to know whether or not you will enjoy using the weight loss dieting support pill. It will also help you to be ready for potential issues, if there are any.
If you have sensitivities to stimulants, you may experience mild side effects such as those associated with drinking coffee.  That said, most healthy adults can avoid even mild side effects by taking this product according to the package directions. It's always advisable to speak with a doctor before taking any new supplement.
Read real customer reviews for FENFAST 375 and more Intechra Health products here: Diet Pill Reviews