Are you practicing bedtime habits for good sleep on a regular basis? If not, there are many reasons you might want to think about starting, and it's not just about getting better rest – though that's definitely an important part of it.
Bedtime Habits for Good Sleep Set You Up for Tomorrow
It's easy to think about nighttime as an end to the day, when everything shuts down and closes off.  But when you really think about it, it's a new beginning. Yes, the day has ended, but the night is starting, with a morning to follow.
When you look at it this way, bedtime habits for good sleep set you up for a restful night and a positive, productive day to follow. Keeping them up can help you to make sure you're getting the most of the time you've given yourself to rest and recharge, and begin the morning at your best.
These 5 Bedtime Habits for Good Sleep Also Work for Great Mornings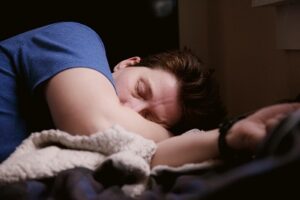 The following are tried and tested bedtime habits for good sleep that are recommended by the CDC and used by successful people and those who are great at time management. Check out how easy it is to work them into your regular routine.
1 – Stick to a Schedule
The best bedtime habits for good sleep include just that, a specific time when you'll be going to bed. The more you stick to your schedule, the more your body's natural clock will start to set itself for that hour. You'll soon find that you'll feel tired at the same time and will want to head to bed at that hour.
Setting a time you'll stick to also removes the debate about when you'll crash for the night. No, you won't watch just one more episode of that show you're binging, because it's time to head to sleep.  By eliminating this risk of staying up too late, you'll automatically and simultaneously eliminate all the consequences of unnecessarily starving yourself of rest, such as reduced productivity, increased fatigue, and food cravings for fatty and sugary snacks.
2 – Set a Morning and Nighttime Alarm
We all know that setting an alarm can be helpful to get us up in the morning, but setting one at night can help us keep up better bedtime habits for good sleep. It might sound unusual, but it takes a lot of the added thought out of shifting your behaviors. It reminds you that it's time to begin winding down and getting ready for bed. This can include a heads up to finish whatever show is on TV, so you won't keep watching beyond when you should be sleeping.
When you set your morning alarm, remember that this will be the time for you to get up. For you, the snooze button no longer exists.  It provides no benefit but does make it harder to wake up and become alert and productive in the morning. When your alarm goes off, sit up. It's time to get up.
3 – Shut Off Screens Throughout Bedtime Habits for Good Sleep
Once your alarm goes off to tell you that it's time to start your bedtime habits for good sleep at night, it also means it's time to stop using screens. This includes TVs, computer monitors, tablets, phones and other similar gadgets. Let your brain become restful. This won't happen when you're looking at the lights of the screen and scrolling through social media or playing a game.
Screen time is one of the worst bedtime habits for good sleep, so if there are any changes you make from this list, make this one it.  Use this time to let both you and your devices recharge.
4 – Create a To-Do List for the Next Day
This can be done throughout the day, keeping tabs on what you'll need to do tomorrow. That said, adding it to your bedtime habits for good sleep can help you to unburden your mind of any further details.  By jotting things down so you know you'll remember to do them, you let your mind off the hook from having to remember them.
Successful people swear by this technique. Whether you use your calendar or have a pad of paper to jot down last minute thoughts you want to remember, simply writing them down helps your mind to unwind and helps to reduce the risk of an overactive mind that will keep you awake. At the same time, it also helps to make sure that everything you want to do will be remembered for the next day when you can take it on.
5 – Have a Morning Routine
The more mindless your morning routine, the easier it is to slip into your day. Start doing certain basic tasks in a similar order. If you can, have everything set up for this routine the night before. Pick out your clothes, have the coffee pot ready to brew so that all you need to do is press the "on" button, and know what you're making for breakfast if you haven't made it in advance.
This type of routine lets you start your morning calmly so your mind can wake at its own pace. It also helps you to know that you'll have enough time to get everything done and will avoid last minute mistakes, frustrations and scrambles. This way, you can use the great rest you got the night before to its full advantage!